Don Tomas Urquizdez's Adobe

Disputed as to whether the Recapitulation Treaty/Treaty of Cahuenga between the US & Mexico was signed there.

Entrance to the Cahuenga Pass from the south

Cahuenga Tavern

8 Mile house, an Inn apparently somewhere in the Cahuenga Pass. May have been a speakeasy at some point.

State Highway SF Valley, predecessor of the 101/Hollywood Freeway

Laemmle Boulevard entrance to Universal Studios

Hotel Hollywood, at the intersection of Hollywood & Highland

The old Masonic Temple on Hollywood Boulevard, looking west

Grauman's Egyptian Theatre

Hollywood Boulevard looking east

Hollywood Boulevard at Cahuenga Avenue looking west

Hotel Dupont on Cahuenga north of Franklin at Wilcox

Mulholland Dam/Hollywood Reservoir

After the San Francisquito/St. Francis dam failed in 1928, this dam was buttressed with earth to stabilize it.

The Cahuenga Pass Parkway in its earliest days

Just north of the Hollywood Bowl, probably taken from the Pilgrimage Bridge.

The Pilgrimage Bridge with roadways still under construction

Portola Motor Hotel

Became the Banana Bungalows, which were replaced by the current condo complex south of the Mulholland Bridge.

Major's Motor Court Hotel

On Cahuenga just south of Oakshire, subsequently replaced by an apartment building.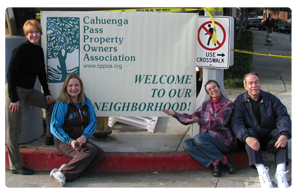 ... to the Cahuenga Pass Property Owners Association's website. Since 1952, our all-volunteer organization has been committed to maintaining the tranquil character of our community and to improve the quality of life throughout our neighborhood.
We are currenty updating our website to give our community better tools and more information about news, events, meetings and safety in our neighborhood.
With your support, our organization will continue to advocate on behalf of our community, supporting activities that are economically, socially and environmentally sustainable.
We invite all residential and business owners and tenants to join the CPPOA. Everyone is welcome.