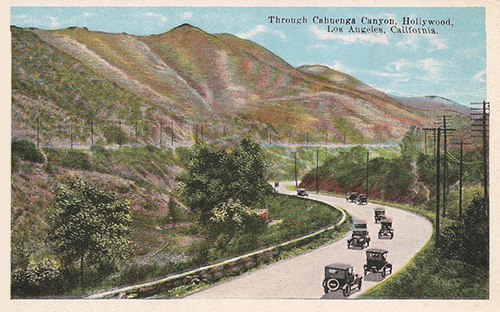 Meet your Board of Directors
DAN BERNSTEIN has lived on Passmore Drive since 1973 and helped lead the group that persuaded Universal Studios to cover its amphitheater. He has served on your Board of Directors continually since 1973 and as President from 1985-1990 and again from 1999-2000. Dan chaired the committee that formed our Hollywood Hills West Neighborhood Council and served as its first President from 2002-2004. His primary goal has always been to preserve and conserve our community's environment. Dan is a Certified Public Accountant, a watercolorist, and he is a lifetime bicyclist and volunteer in the Santa Monica National Recreation Area with 25 years of service as a member of the Mountain Bike Unit.
FLORENCE BLECHER and her house found each other in and is the second owner of the 1927 house with a storybook past. The house pushed her to change her direction from entertainment to architecture, landscape architecture and city planning. She has been on the CPPOA Board for most of the years she has lived in the Pass, and she is a past-President and past-Vice President. She served on the Plan Review Board of the Ventura-Cahuenga Boulevard Corridor Specific Plan for many years and successfully persuaded the City Planning Dept. to recognize the Cahuenga Pass as its own community, distinct from the Hollywood and Studio City areas. She authored our Streetscape Plan and was a board member of communities United for Smart Growth (CUSG), a group of affiliated local organizations that formed to address NBCUniversal's Evolution Plan.
ELDON DAETWEILER - originally from Visalia, CA, is a long time Los Angeles and Fredonia Dr. resident. Passionate about Mid-Century Modern design, he has been involved publicly in the preservation of MCM buildings and landscapes, and privately, restoring several Mid-Century homes including his current Ray Kappe residence. A twenty-four-year real estate career veteran, Eldon maintains the Fredonia community email news/alert, and in his spare time writes and records music with his brother Jeff.
STEVEN GOLDFISHER has lived in the Cahuenga Pass since 1990 and has served on the CPPOA Board of Directors for most of that time. He was raised in New York City, then moved to Los Angeles and graduated from USC. He received his law degree from Columbia Law School in New York. He is an attorney whose professional practice is focused on the entertainment industry, publishing and new media.
MARC HERNANDEZ is a native of the Los Angeles area and a luxury real estate agent with the Beverly Hills office of Compass, where he is a member of the Sports and Entertainment Division. He has been featured on the homepage of the California Association of Realtors website, included in various luxury and business publications, and seen on Bravo TV's "Million Dollar Listing Los Angeles." Prior to that, Marc was the National Sales Director for Fox Networks Group where he led national digital advertising sales for Fox.com and American Idol. He earned his B.A. in Business Administration from the University of Southern California and got his start in entertainment and media at United Talent Agency in Beverly Hills. Marc is on the Board of Directors of The Gentle Barn, a farm animal rescue, and WriteGirl, a creative writing mentoring program for teen girls.
SARAH HUNT moved to the Cahuenga Pass in 2002 because it offered a house surrounded by trees and wildlife but with the convenience of the city at her doorstep. She works in television and cares about preserving green space and preventing oversized developments.
PATRICIA JOHNSTON has lived in the Cahuenga Pass for 27 years. She has a B.A.. in Theater Arts from UCLA. Her professional credits include musical theater and television. At Goldcrest Films she was a script reader and development assistant. Presently, she is involved in community activities.
RICH JOLUDOW has lived in his home in the Cahuenga Pass for more than 20 years. He is a licensed civil engineer. He and his husband, Ari, share their home with 3 dogs and a cat rescued as a kitten from the 101 Freeway. He wants to preserve our neighborhood from extreme out-of-character development. Rich recently participated in the San Fernando Valley Coalition of Governments Mobility Academy to study transportation issues that affect the Valley and surrounding areas and proposed solutions and innovations.
STEVEN KATES (Secretary)was born and raised in L.A. and says he would like to retire – if only he knew what he'd be retiring from.
AZAR KATTAN has lived on Cadet Court since 2002. She served on the CPPOA Board from 2007-2008 and rejoined the Board in 2014. In her professional life, Azar is a hospital administrator.
DAVID KEGARIES has been a resident of the Cahuenga Pass since 1974. He has served as CPPOA Treasurer for many years. He has an MBA from USC and a BSBA from University of Denver. David worked in commercial banking for more than 40 years, and is also a Certified Wine Educator. He is most interested in preserving the residential nature of our neighborhood.
THERESA LARKIN is a native Californian and became a resident homeowner in 1990 in the Cahuenga Pass. She joined CPPOA Board in 2016. Recently retired from a tenured professorship at Cal State LA, she now spends her time in research, writing and recording audio books. Theresa holds a Ph.D. in Cultural Studies from Claremont Graduate University and is completing a second Ph.D. in Philosophy, Art and Critical Thought with European Graduate University in Switzerland. Over the years, Theresa has been concerned with aesthetic preservation, homelessness and neighborhood safety.
JUDY MARLIN has been a homeowner in the Pass for over 30 years, and has served as a Board member since 2000 and as our President from 2012-2014. She was our liaison to NBCUniversal to re-paint and re-landscape our local Fire Station 76, and she worked with CBS Outdoor to lower the brightness of the Disney billboard at Barham & Cahuenga Blvd East. Judy worked for 35 years as a producer, associate producer and post-production supervisor for feature movies, TV movies and mini-series. She worked with our Council office to complete the installation of the traffic signal and crosswalk at Theatre West to protect the children who attend Theatre West's Storybook Theatre productions.
KRISTA MICHAELS (President) has owned a home in the Pass since 1986 and joined the Board in 1987. She worked for many years as a production manager for network TV shows and HBO specials. She was co-founder (along with Roy P. Disney, Terry Davis and Richard Bogy of Toluca Lake) of Communities United for Smart Growth, a 501(c)(3) dedicated to monitoring regional growth and educating the public about development in the eastern San Fernando Valley/Hollywood Hills area. She has a graduate degree in Clinical Psychology and is a licensed Marriage & Family Therapist. She is also the owner of Designworks Architectural Signage & Graphics. She is committed to preserving our quality of life in the Cahuenga Pass while still encouraging economic vitality in our community.
GABE MOYLEN (Vice President) An Irish-Bostonian, Gabe transplanted to LA in 2017, and in 2021 he and his partner moved to the Cahuenga Pass neighborhood. A lover of travel and exploration, he hitchhiked and hopped freight trains across the country, canoed 900 miles down the Mississippi river, and in his 20s, earned a Harvard BA in literature. These days he studies the Gurdjieff Work, Chinese Internal Martial Arts, and Freemasonry. In his spare time, he is a home bike mechanic, Supreme Court and politics nerd, avid food fermenter, and pet-lover.
FRANNY PARRISH has lived in her Cahuenga Pass home for 39 years and worked in the entertainment industry in multiple capacities from acting to music for over 35 years. While she served on the CPPOA board for many years, she was our Valley View Elementary School liaison. She recently returned to the CPPOA Board after several years' break, and currently she is a LAUSD school librarian. Franny has served on multiple boards and is currently serving on the Executive Board of the California School Employees Association (CSEA) LA 500 Chapter as the Political Action Chair, a position she finds challenging and exciting. Through her volunteer work in PTA and CSEA, it has become clear that there is an important relationship between a strong neighborhood public school, home values, and making the school the center of the community. Born and raised in Texas, she struggles to maintain her accent, love of home-smoked barbecue, and which wine will go best with each course.
KAREN RIESENFELD (Treasurer) is Hollywood born and bred and a second-generation Cahuenga Passer. She and her partner Steven live in the Bennett Drive home her parents bought in 1973. Karen maintains CPPOA membership records and coordinates the distribution of complimentary Hollywood Bowl and Ford concert tickets. She also co-leads groups at Our House Grief Support Center and enjoys making jewelry and stained glass.
CURTIS WOLLMAN has lived in Los Angeles since 1982 and in the Hollywood Hills for a decade. He is a personal trainer who has helped many individuals reach their fitness goals. His focus is on safety and enhancing our quality of life, and is currently active in addressing the ongoing tour bus problems in our neighborhood and fighting the commercialization of Runyon Canyon.